Treasury prices ease amid auctions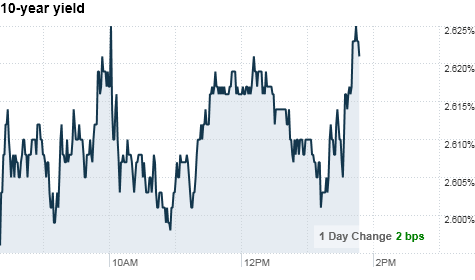 NEW YORK (CNNMoney.com) -- Treasury prices continued to fall Tuesday as investors brace for auctions totaling $109 billion in U.S. notes this week.
The Treasury Department received strong demand for the $35 billion worth of 2-year notes sold Tuesday. But prices remained under pressure ahead of 5- and 7-year note auctions later this week.
On Monday, the U.S. auctioned off 5-year Treasury Inflation Protected Securities, or TIPS, at a negative 0.55% yield on Monday. That marked the first time ever that those bonds were auctioned at a yield below zero.
The fact that there was demand for those Treasuries means bond traders are banking on the Federal Reserve's success at boosting inflation over the next five years. The Fed has said it plans to implement another round of quantitative easing, or buying up assets to boost the economy.
Since TIPS are tagged to inflation rates, bond holders would earn a premium if inflation rose enough to make up for the negative 0.55% yield.
Unlike TIPS though, standard Treasury bonds and notes aren't adjusted for inflation. So prices on those assets fell Tuesday, both on higher inflation expectations and ahead of more government auctions this week.
"You have to square the logic somehow," said Keith Hembre, the chief economist at First American Funds. "If inflation is indeed going to be 1.7% and real yields are negative, why would you agree to take a return that's less than expected inflation over that period?"
Meanwhile, investors submitted bids totaling nearly $120 billion for the $35 billion in 2-year notes offered Tuesday. The bid-to-cover ratio, a measure of demand, was 3.43.
The government will also auction $35 billion of 5-year notes on Wednesday and $29 billion of 7-year notes on Thursday.
In the meantime, traders will continue to watch for more clues about the Fed's plans ahead of the central bank's meeting and ahead of mid-term elections.
What yields are doing: Prices fell and yields rose Tuesday. The yield on the benchmark 10-year note rose to 2.62%, up from 2.57% on Monday.
The yield on the 30-year bond rose to 3.98%, from 3.91% Monday.
Yields on the 2-year note rose to 0.39%, and the 5-year note rose to 1.23%.