Lexmark shares plunge as CEO departs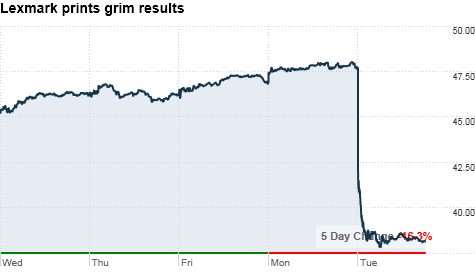 NEW YORK (CNNMoney) -- Shares of Lexmark plunged 21% Tuesday, after the printer maker announced the departure of its longtime CEO and reported third-quarter financial results that fell short of analysts' expectations.
The printing manufacturer had revenue of $1.02 billion, up 6% from last year but shy of analysts' $1.04 billion estimate. The quarter's net income of $72 million rose sharply compared to last year, but a weak forecast for slow growth in the current quarter sent investors fleeing. Lexmark's stock had the biggest drop of any S&P 500 company in Tuesday trading.
CEO Paul Curlander, 57, announced plans to retire in early 2011 after 12 years at the Lexington, Ky., printer company. Curlander will be succeeded by Paul Rooke, another longtime Lexmark vet who has helmed the company's Imagining and Solutions Division since 2007.
Lexmark (LXK) is a mainstay in the printing field, but it trails market leader Hewlett-Packard (HPQ, Fortune 500) and faces persistent pressure about its one-trick business model. The company is frequently touted as a good buyout candidate, particularly for private-equity firms. Its current market capitalization, of $3 billion, sits below the $3.9 billion it generated in sales last year.