Get your shots without any needles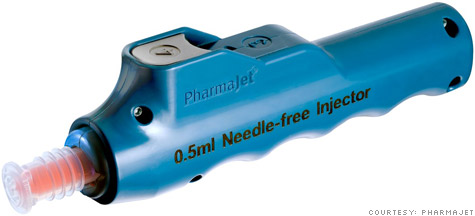 (CNNMoney.com) -- If you're dreading your next flu shot, here's good news: Needle-free injection technology could be coming to a health clinic near you.
"I can't say it's entirely painless, because that's subjective," says Kathleen Callendar, 69, the founder of PharmaJet, a startup company based in Golden, Colo. "But it gives a more gentle injection -- kind of like a tiny rubber band snapping against you."
Rather than piercing the skin with a hypodermic needle, PharmaJet's spring-powered gadget uses a high-velocity stream of liquid to deliver vaccines or medications. The process takes less than one-third of a second.
The small device has big potential, and not just for needlephobes. An estimated 16 billion injections are given each year in developing countries. In some cases, needles are reused or improperly thrown away -- and vaccines meant to prevent diseases end up spreading them instead.
"Research on developing needle-free devices has been ongoing for decades," says Carlos Castillo-Solorzano, a doctor with the immunization unit of the Pan American Health Organization, which is affiliated with the United Nations and based in Washington, D.C.
Historically, needle-free injectors have been too expensive for broad adoption, particularly in the developing countries where they're most needed.
Enter Callendar, a dental hygienist turned unlikely entrepreneur. More than a decade ago, she met an inventor who had designed a spring-loaded, needle-free injector. She bought the intellectual property rights and, in 2005, formed PharmaJet.
Callendar surrounded herself with a team of about 30 scientists and engineers. They've spent the past few years tweaking the original device, custom-winding new springs to create a "gentler" injection and rebuilding the single-use, medication-delivering cartridges to use polypropylene, a low-cost plastic.
Callendar enlisted her daughter, Heather Potters -- a private equity investor then working in Warsaw -- to handle PharmaJet's finances. Potters has raised a total $15 million for the company over the last five years from private investors, including several health care professionals.
"We've paid careful attention to how we invest our money," Potters says. "We didn't invest in our own plants. We outsourced to a medical-device manufacturer. And we did everything to make sure our device is low-cost and robust."
PharmaJet won federal clearance for its first product in early 2009, following a rigorous U.S. Food and Drug Administration approval process that included testing injectors more than 30,000 times each and exposing them to extreme heat and humidity. Last year, the company's needle-free injector was used to give seasonal flu and H1N1 shots in a handful of public clinics in New Jersey.
"It's now the second year and we have people asking for the needleless option," says Herbert Yardley, health officer at the Department of Environmental and Public Health Services in New Jersey's Sussex County. "Personally, I don't like needles. And this way, we don't have to pay for medical waste disposal or worry about needle-stick injuries."
Yardley says that more than 10 clinics in his county now offer needle-free injections using PharmaJet technology. About 30% of patients opt for the needle-free shot.
"It's a new technology and it takes a little bit of time," Yardley says. "But I think it's the wave of the future. It's the way we want to go."
This year, around 40 pilot programs using PharmaJet injectors were launched across the United States and abroad. Customers include American pharmacy chain The Little Clinic and Los Angeles County's public health clinics, along with Brazil's Ministry of Health, which has rolled out needle-free injections in the Sao Paulo region. PharmaJet won't disclose how much revenue it's pulling in at the moment, but executives say sales for the first quarter of 2010 topped their revenue for all of 2009.
The company still has a long way to go. For starters, it's not the only needle-free solution on the market. Competitors include MedImmune, which has developed a nasal spray vaccine, and Bioject, maker of a needle-free gadget powered by a carbon dioxide cartridge.
And though PharmaJet's durable injectors are cheaper than the competition, they're still not cheap enough for use in the developing world. Currently, PharmaJet injectors -- which can be reused thousands of times -- cost about $100 a pop. The single-use, needle-free syringes that feed into the injector cost from 30 cents to $1. (PharmaJet won't specific the exact cost.) In contrast, traditional hypodermic, needle-based syringes can sell for 15 cents or less.
Callendar says that, as production volume rises, the cost of PharmaJet's injectors will drop low enough for it to become a viable option for developing countries.
In the meantime, she's hard at work on getting FDA clearance for a second device: a needle-free injector that uses the same high-velocity technology as its predecessor, but injects medicine into the top layer of skin, rather than penetrating into the muscle.
Scientific studies suggest that a smaller amount of vaccine can be used to get the same antibody effect when drugs are injected this way. If it works, the new device could immunize five people with the same amount of vaccine now used for just one patient.