No $250 check for seniors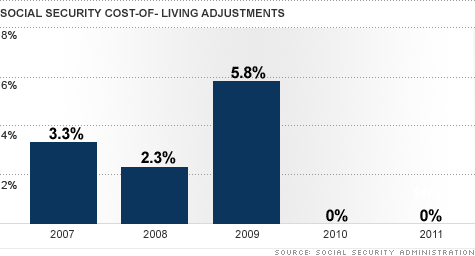 NEW YORK (CNNMoney) -- The House failed to pass a bill Wednesday that would have put a $250 check in the mail to 58 million Social Security recipients.
The measure was designed to provide a one-time payment to make up for another year without a cost-of-living adjustment to benefits.
The bill, which would cost about $14 billion, failed by a vote of 254 - 153.
The vote largely broke down along party lines, with 12 Democrats breaking ranks to join 141 Republicans in voting against the measure. Twenty-six Republicans voted in favor of the bill.
"While many seniors are hurting, so too are American working families," said Rep. Sam Johnson, R-Texas. "Increasing our nation's crushing deficit on the backs of our children by an additional $14 billion is wrong."
In October, the federal government announced that Social Security beneficiaries will see no increase in their benefit checks in 2011. It's the second year in a row with no increase.
The last time there was an inflation adjustment was in 2009, when Social Security beneficiaries got a higher-than-normal 5.8% increase because of a temporary spike in energy prices in the third quarter of 2008.
Soon after, however, energy prices plummeted. Then the bottom fell out of the economy and prices still haven't fully recovered. As a result, seniors haven't seen a boost in their benefits for two years.
"This is causing a hardship for so many given the fact that Social Security benefit levels are really very modest," said Rep. Earl Pomeroy, D.-N.D., who is the author of the legislation.
By law, the Social Security Administration is required to track inflation using the most recent third quarter that led to an adjustment. But critics argue that by using only one quarter of data, the change in benefits is more volatile than necessary.
While the House vote is a major blow to supporters of the payment, the Senate is considering a similar bill introduced by Sen. Bernie Sanders of Vermont, an independent.
On Wednesday, the White House issued a policy statement in support of that proposal.
"Passage of this legislation would help approximately 58 million of those Americans hit hardest by the recession," the statement said.