New Volkswagen Jetta: Only $6000 - hurry, three left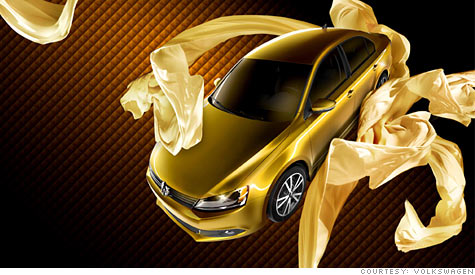 NEW YORK (CNNMoney.com) -- This coming Wednesday, the discount fashion Web site Gilt.com will begin offering three 2011 Volkswagen Jettas at a particularly steep discount. The cars will be sold for $5,995.
That's precisely $10,000 off the cars' base price of $15,995.
The cars will be sold, one each day beginning at noon, on Wednesday, Thursday and Friday.
On the first day, the sale will only be available to Gilt.com members using mobile devices. On the latter two days, the cars will be available through all Web browsers.
Proceeds from the sales will be donated to the charity Dress for Success, Volkswagen said in its announcement.
The Jetta, which was redesigned for 2011, has been a sales success for VW despite taking lumps from car critics who have attacked VW for cheapening the car's interior in an attempt to keep the price down.
"Initial impressions indicate that the interior is actually simpler and uses lower-quality materials than in the previous generation," notes Consumer Reports in its summary review of the car.
Late last month, Volkswagen gave away 275 model year 2012 VW New Beetles on the Oprah Winfrey show.