Don't look now - another budget extension needed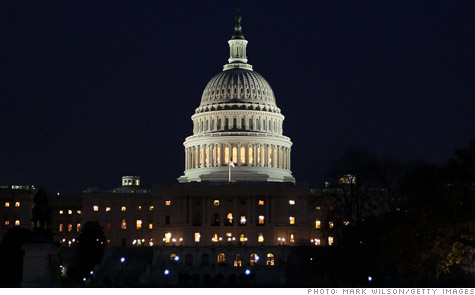 NEW YORK (CNNMoney.com) -- For the third time in a month, Congress is racing to the wire to approve a temporary spending bill to keep the government open for business.
The current measure funding the government -- a so-called continuing resolution -- is set to expire Tuesday at midnight.
The latest extension, passed Friday, was intended to give the Senate time to work on a longer-term solution.
The framework for such a deal appears to be in place. On Sunday, the Senate's top Republican said he was working across the aisle on a deal that would fund the government through March.
With Republicans taking control of the House in January and pledging spending cutbacks, a March deadline would set up a full-fledged fight over the budget.
But first lawmakers need to keep the lights on.
While a continuing resolution puts government spending on autopilot, the version under consideration does include some adjustments to spending levels, including the two-year freeze in pay for federal workers that President Obama called for in November.
Before the bill becomes law, it must be passed by the Senate, which is currently debating an arms treaty, and the House, which doesn't return until Tuesday.
That leaves a narrow window for action.
The failure to pass a new spending measure leaves the government without the authority to spend money for anything but essential operations.
Congress has come down to the wire many times before and has usually managed to pass a funding bill without causing a government shutdown.
Typically, lawmakers pass 12 appropriation bills for the president's approval. Those bills give federal agencies the legal authority to spend and conduct business.
This year, not one of the 12 has been approved by the Senate.
Instead, lawmakers have relied on continuing resolutions. But when the new Republican-controlled House starts meeting in January, the GOP caucus is unlikely to be content with extending funding at current levels.
"Beginning ... January 5th, the American people are going to watch their Congress do something differently, at least in one house," Rep. John Boehner, the incoming Republican speaker, said Friday. "The House is going to become the outpost in Washington for the American people and their desire for a smaller, less costly, and more accountable government."
Before the 2010 midterm elections, House Republicans said that if they were in charge they would cut spending by at least $100 billion from the budget in the first year.
Asked on Friday which programs are likely to be cut, Boehner didn't specify.
"But I will tell you," he said. "We are going to cut spending."