GM to unveil small Buick in Detroit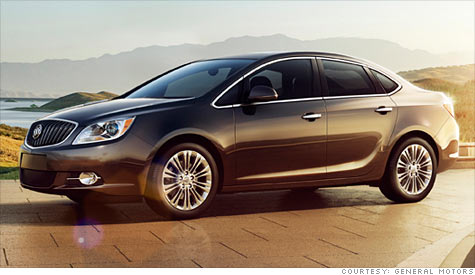 NEW YORK (CNNMoney) -- General Motors' Buick division has long been known for big, cushy cars, but the automaker will reveal a new compact Buick at the 2011 Detroit Auto Show next week.
The car, called the Verano, will go on sale in the United States around the end of this year. It will be offered with a 177-horsepower 2.4-liter four-cylinder engine and a six-speed automatic transmission. The car is expected to get 31 miles per gallon in highway driving, according to GM.
"It is a smart choice that delivers unexpected luxury in a compact sedan -- and it will compete head-to-head with competitors from Audi and Lexus." John Schwegman, vice president of Buick marketing, said in a statement.
Specifically, the Verano is designed to compete against cars like the Audi A3 and Lexus IS 250, GM said.
The Verano looks similar to the Buick Regal, a mid-sized car introduced last year, but it's about 10 inches shorter. The Verano will have 34 inches in rear legroom, compared to a little over 37 inches for the Regal.
Standard features on the Verano will include such luxury items as push-button start, heated steering wheel and an electronic parking brake.
GM has been working to improve the quality of Buick cars with some success. Versions of the Buick LaCrosse, Lucerne and Enclave have all earned recommendations from Consumer Reports magazine, considered the most influential publication among car buyers. Only the Regal has not earned a recommendation because it's still too new for the magazine to have collected dependability data on it.