Stocks: Tech and bank earnings in spotlight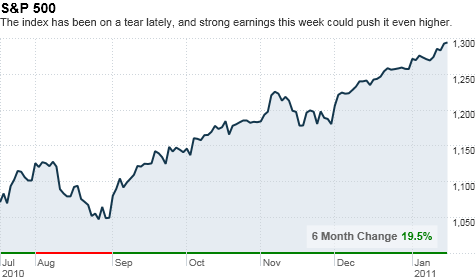 NEW YORK (CNNMoney) -- Stocks have shrugged off economic reports lately, looking instead to this week's results from big names in the technology and financial industries.
"All eyes on are on the earnings -- they drive stock prices," said Keith Springer, head of Springer Financial Advisors. "The real key is corporate America remaining strong. Little else seems to matter much right now."
In that case, traders will have a lot to digest over the next few days. About 10% of the S&P 500, or 49 companies, will report earnings this week.
Analysts say the market is due for a correction, but is "resting" by moving sideways -- instead of lower -- as it awaits the avalanche of earnings this week.

On Friday, the Dow and the S&P posted their seventh straight week of gains. That's the highest streak for the Dow since the two months of consecutive gains that ended in April 2010.
Traders will be looking to the earnings reports to see if companies talk about an improving economic picture, said Mark Luschini, chief investment strategist at Janney Montgomery Scott.
"They also want to see what company management says about hiring prospects -- because in order to sustain an economic recovery, we need to see jobs growth," he added.
Luschini said Wall Street is looking for big numbers this earnings season: "news that doesn't continue to really surprise on the upside looks like it's going to be treated as indifferent."
S&P 500 earnings are expected to have climbed 31.8% in the fourth quarter of 2010, according to earnings tracker Thomson Reuters. S&P companies' revenues are expected to have risen 6%.
The recession brought nine straight quarters of losses until the final quarter of 2009, which snapped the downward trend. Then the first three quarters of 2010 logged growth -- so this reporting period could bring the fifth-straight upward quarter.
Springer said he's expecting fourth-quarter 2010 earnings were "stellar," especially in the banks and techs that are reporting this week.
JPMorgan Chase (JPM, Fortune 500) laid the foundation for strong bank earnings on Friday, when it reported a 47% jump in fourth-quarter earnings to $4.8 billion, or $1.12 per share. That beat the 99 cents per share forecast by analysts.
"Banks are going to make a fortune," Springer said.

Several technology companies, including Apple, Google and IBM will also report this week. Springer notes these reports could give some insight into business spending.
Despite a holiday on Monday, the week is still chock-full of economic reports. Many are in the housing sector, with data due about housing affordability, new home construction, building permits and existing home sales.
Monday: The U.S. stock market, bond market and federal offices are closed in observance of Martin Luther King, Jr. Day.
Tuesday: A reading on New York regional manufacturing in January is due before the bell. Also, Citigroup (C, Fortune 500) will report its earnings before trade starts.
After the start of trade, the National Association of Home Builders and Wells Fargo will release a report with their housing affordability index. Economists polled by Briefing.com expect the reading stayed flat at 16 in January.
After the bell, both Apple (AAPL, Fortune 500) and IBM (IBM, Fortune 500) will release earnings results.
Wednesday: Chinese President Hu Jintao will visit the White House to talk with President Obama.
Before the start of trade, Goldman Sachs (GS, Fortune 500) and Wells Fargo (WFC, Fortune 500) will report quarterly earnings.
Also before the opening bell, government figures for December are expected to show that initial construction of single family homes fell and requests for building permits rose.
Thursday: Morgan Stanley (MS, Fortune 500) will report results ahead of the bell, while Google (GOOG, Fortune 500) and Advanced Micro Devices (AMD, Fortune 500) come out after the close of trade.
The weekly jobless claims report is due in the morning. Also out early is the Philadelphia Fed index, a regional reading on manufacturing.
The weekly crude oil inventories report is due later in the morning, one day later than usual because of Monday's holiday.
The National Association of Realtors will release its monthly report on existing home sales, which analysts polled by Briefing.com expect rose to an annual rate of 4.8 million in December from 4.68 million the previous month.
The Leading Economic Indicators (LEI), from the Conference Board, is expected to have fallen to 0.6% in December from 1.1% the previous month.
Friday: Both Bank of America (BAC, Fortune 500) and General Electric (GE, Fortune 500) will report earnings before the start of trade.