GM adding 750 jobs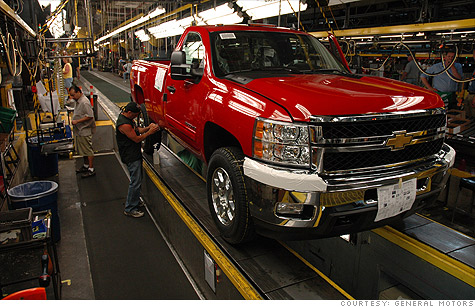 NEW YORK (CNNMoney) -- General Motors is adding a third-shift at its Flint, Mich., assembly plant. The shift addition will allow the company to hire back 750 workers to build its heavy-duty pickups, the company announced Monday.
Former GM (GM) employees who were laid off will be asked to come back, as well as former Flint plant workers who relocated to other places in the Midwest. Other positions will be filled by those laid-off from other GM plants. The hire-backs are expected to start work during the second quarter, although the third shift isn't likely to be up-and-running until the third quarter.
"Adding a third shift is a response to customer demand for heavy-duty pickups, which most people use to tow, haul and plow," said Mark Reuss, president of GM North America. "Equally importantly, it brings jobs and a needed economic boost to the Flint area."
As of mid-January, GM has about 4,700 hourly and salaried workers throughout its five plants in the Flint area -- including 2,100 within the assembly plant that is adding the third shift.
But it's still a fraction of the workforce that GM used to have in Flint, which is an industrial city about 60 miles northwest of Detroit. The Flint North plant halted production for the final time December 2010, however, job losses have been going on in the area for a number of years. The 1989 Michael Moore documentary, "Roger & Me," highlighted the impact GM job cuts had on the city.
Despite rising gasoline prices in recent months, there has been a strong recovery in demand for heavy-duty pickups. GM said that sales of the Chevrolet Silverado and GMC Sierra rose 17% last year to just under 500,000 full-sized pickups, and about 23% of those trucks came out of the Flint assembly plant.
The Flint assembly plant was one of those that kept operating throughout the summer last year, rather than going through the typical summer shutdown, in response to strong demand for its trucks.
GM isn't the only automaker bringing on additional workers to supply the rebound in customer demand. Ford Motor Company (F, Fortune 500) announced earlier this month it expected to hire 7,000 workers by the end of 2012.