IRS mobile app lets you check tax refund status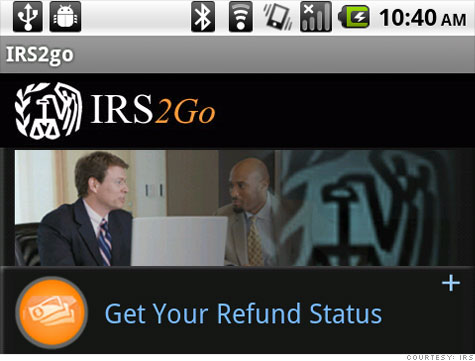 NEW YORK (CNNMoney) -- The Internal Tax Revenue unleashed its first smartphone app on Monday, called IRS2Go, which allows taxpayers to check the status of their refunds and find other tax information.
IRS2Go is a step toward "modernizing the agency and engaging taxpayers where they want when they want it," the IRS said a press release.
The app is available for both Apple (AAPL, Fortune 500) and Android devices. In addition to offering refund details, it also offers ways to get tax tips and information via e-mail.
How to check the status of a tax refund: Users enter their Social Security numbers (which are encrypted for security purposes). Next, they pick the filing status they used on their tax return -- single, married filing jointly, etc. Finally, they enter the amount of the refund they expect.
For people who e-file, the app's refund function will work about 72 hours after the IRS sends the taxpayer an e-mail acknowledging receipt of the tax return.
People filing paper tax returns will need to wait three to four weeks before they can check their refund status via IRS2Go. The IRS noted that about 70% of the 142 million individual tax returns it received were filed electronically last year.
Want more IRS via social media? Wonkheads who just can't get enough of the IRS can follow the agency on Twitter at @IRSnews.
The IRS said it also "uses tools such as YouTube and Twitter to share the latest information on tax changes, initiatives, products and services through social media channels."