Where the risk is (and isn't) in muni bonds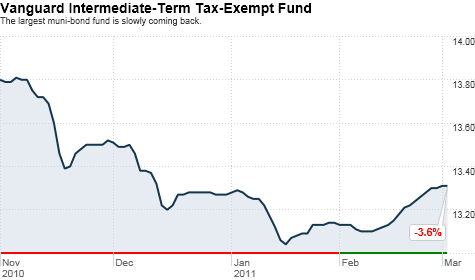 NEW YORK (CNNMoney) -- State and local governments across the country are struggling under the weight of their budget woes.
But does that mean municipal bonds are no longer a safe-haven asset?
Even as finance superstars Meredith Whitney and Nouriel Roubini have sounded the alarms on munis, some investors are saying that's an overreaction.

"When we get a severely negative headline, the entire market reacts," said Guy LeBas, chief fixed income strategist with Janney Montgomery Scott. "But I would argue that the credit quality of government issues, remains, on average, extremely strong."
In December, Whitney made headlines with her controversial forecast of 50 to 100 major muni-bond defaults, totaling "hundreds of billions of dollars." And on Wednesday, Roubini's economic consulting firm predicted municipal bond defaults could total $100 billion over the next five years.
Since November, muni bond fears have run wild, driving up yields and pushing down their prices. But now, some investors are seeing an opportunity, despite the high-profile warnings, and it seems the muni market has calmed.
"It's kind of a Warren Buffett mentality," Lebas said. "Be greedy when others are fearful."
The argument is, municipal bonds -- which are tax exempt -- are now considered cheap and yielding more than ultra-safe Treasuries. The question is, with all the headlines about struggling state and local governments, have they become too risky?
Where the risk isn't
Rating agency Moody's is confident no state or major city will default on its debt this year. Even Federal Reserve Chairman Ben Bernanke has said muni-bond risks "have been looking somewhat better recently."
"Continued evidence that states and localities are addressing fiscal shortfalls should help calm the municipal bond market," Bernanke told the Citizens Budget Commission at a dinner Wednesday.
The risk of defaults is not at the state and or even city level, but at smaller, often unrated segments of the market, said Anne Van Praagh, Moody's chief credit officer for public finance.
She points to 2009, when there were 200 defaults in the market, but only one of those bonds had been officially rated.
"The process for local governments will be messy and noisy, but we think they're going to pay their debt for the most part," she said.
Of the roughly 11,500 government units it rates, Moody's has graded only about 50 cities below investment quality -- or junk status. Other than Detroit, which is the exception -- all the rest are small towns.
Where the risk is
In contrast, a vast majority of the muni bonds that have low ratings are for hospitals or housing projects.
"The muni market has always had two sides," LeBas said. "The traditionally stable issuers like state and local governments and utilities ... and the sort of ugly cousin, that's encompassed in small health care providers, senior living facilities, nonprofits and dirt bonds."
Bonds that fund land developments, often called "dirt bonds," are being strained by the still-struggling housing market, LeBas said. And bonds for small hospitals are increasingly risky, as they face both lower revenues and increasing operating costs related to health care reform.
LeBas recommends well-researched state and city debt, as well as toll roads and utilities as a safer bet.
"Even if economic times get tough, people still have to keep their water running," he said.
Broad-based bond funds may sometimes combine munis from both the safer and risky categories, so investors need to do their research or hire someone to do it for them, said Adrian Cronje, chief investment officer with Balentine.
They should also be mindful of the "headline risk" that makes municipal bonds volatile, considering headlines about a single analyst like Whitney can move the entire market, he said.

"I think the worst thing is to think, 'I have a need for safety, I'm going to buy cheap, low-cost passive municipal bonds,'" Cronje said. "People ought to consider a broader array of asset classes in the safe part of their portfolio today, including inflation-protected bonds and international bonds."