GM CFO Liddell leaving after just a year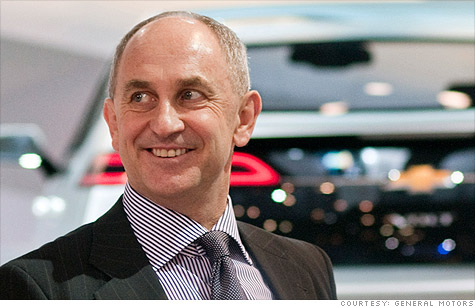 NEW YORK (CNNMoney) -- General Motors chief financial officer Chris Liddell is leaving the company after just over a year on the job, a period in which the company returned to the public markets and put past accounting problems behind it.
Liddell, 52, came to GM (GM) in January 2010, just six months after it emerged from bankruptcy and less than a year before its IPO.
Shares of GM tumbled about 3% in early trading following the announcement. Shares are now trading slightly below the IPO price, as they have been hit by the recent rise in oil prices.
GM did not give any reason for his sudden departure, which is effective April 1. On a call with reporters, Liddell would only say that he thought this was a good time for him to leave since he had accomplished what he wanted to in the job.
"I think my CFO days might be behind me," he said, adding that he did not have any definite plans or new position waiting for him.
Liddell would not comment if he's looking for a CEO position or if he was disappointed he did not get the top job at GM when previous CEO Ed Whitacre abruptly left in August of last year, just months ahead of the IPO.
The job went instead to GM board member Dan Akerson, a former CEO of Nextel Communications and leader of the buyout group at private equity firm Carlyle Group.
Akerson praised Liddell, and sought to dispel any speculation that a personality clash between the two led to the change, saying that he considered Liddell a friend and that "we got along fine and I'm sure we'll be friends well into the future."
Still, the move continues a period of unprecedented executive upheaval among the upper echelons of GM management, a company previously known for its lack of turnover at the top.
Of the top 10 executives listed on GM's management roster, none held his or her current position when the company emerged from bankruptcy on July 10, 2009.
Dan Ammann, 38, who is currently GM vice president, finance and treasurer, will be the new CFO. He's another relative newcomer to the company, joining it in April 2010 from an industrial investment banking position at Morgan Stanley (MS, Fortune 500).
Liddell and Akerson said Ammann had been closely involved in the IPO and the changes in GM accounting implemented by Liddell. Ammann said he viewed his appointment as a "long-term commitment to GM."
Liddell received very high marks for helping to pitch the company to investors, as the company raised a record $20.1 billion from its first day stock sale. Most of that money was returned to taxpayers as partial payback of the $50 billion bailout that helped the company through bankruptcy.
While Treasury no longer holds a majority stake at GM, it still is the largest shareholder with one third of the shares.
"Today's management changes were made by the GM Board," said Treasury spokesman Mark Paustenbach. "Treasury was notified of the changes but was not involved in the deliberations or the decisions."
Liddell also turned around accounting practices at GM. The company admitted that its financial reporting suffered from "material weakness" coming out of bankruptcy. But GM reported in its fourth quarter financial release that the audit committee of its board had concluded this material weakness no longer existed.
Many challenges still lay ahead for Ammann, GM's new CFO, primary among them shedding the junk bond status that has dogged the company's credit rating since 2005.
Liddell came to GM after holding the CFO position at Microsoft (MSFT, Fortune 500). He also held that post at International Paper (IP, Fortune 500), and was CEO of Carter Holt Harvey Ltd. a forest products company in his native New Zealand.