Nike shares drop on price hike plan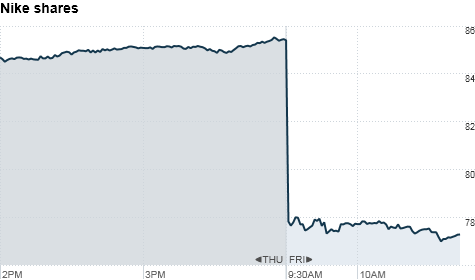 NEW YORK (CNNMoney) -- Nike shares took a drubbing in early trading Friday after the athletic wear maker's executives said they would raise prices across the board in response to increased costs.
The comments came during a conference call after the market closed Thursday in which the company announced earnings per share of $1.08 on revenue of $5.1 billion in the third quarter, slightly lower figures than analysts had anticipated.
Coupled with revelations of rising costs and prices, the news sent shares down more than 9% to $77.13, a sharp decrease from Thursday's close of $85.41.
Nike (NKE, Fortune 500) CFO Don Blair said the company was already fighting higher costs in the third quarter, with specific input costs of oil, cotton and labor leading the way. The company was also paying more than usual for air freight due to high demand for some of its shoe products.
That means narrowing margins for Nike, a prospect Blair said would require higher prices.
"Beginning in spring 2012, we'll take more significant price increases across a broader range of styles," he told analysts and reporters.
Turmoil in Japan will also present problems for the athletic apparel manufacturer. The company reported Thursday that revenue declined 16% in the third quarter in Japan.
"Japan was a challenging business environment even before the catastrophic events of last week," Blair said, noting the disaster will impact Nike's business in the country moving forward.
"It's too early to fully assess the financial impact of these ongoing events on our business, but we do anticipate there will be a negative impact on our revenues and profits for this geography," he said.