Investors focus on jobs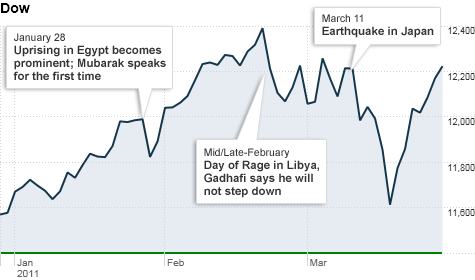 NEW YORK (CNNMoney) -- As Wall Street continues to digest events overseas, investors will focus on the U.S. job market this week.
The Labor Department's March jobs report typically sets the stage for the rest of the month because of how important jobs are to driving future economic activity. While the U.S. economy grew by 3.1% in the last three months of 2010, job creation has not kept pace.
"There remains a lot of concern that the U.S. remains in this jobless recovery," said Daniel Morgan, portfolio manager with Synovus Trust Company.
Economists surveyed by Briefing.com expect the U.S. economy created 185,000 jobs last month and the unemployment rate remained steady at 8.9%.
Wall Street will also get the closely-watched Institute for Supply Management manufacturing index and two reports on the housing market.
Investors will also have to balance this week's economic data with ongoing concerns about Japan's nuclear reactors, Europe's debt problems and Libya's civil war.
It's been a roller coaster ride for U.S. markets as the first quarter of 2011 heads into its final trading week. Stocks struck multi-year highs in mid-February, fueled partly by a strong earnings season, but a spate of international crises have put a damper on market momentum.
"Investors were pretty enthusiastic at the start of the quarter, but the Mid East and Japanese problems have been like punches to the face," Morgan said.
That said, U.S. stocks have bounced back from every crisis so far. The Dow is on pace to end the quarter up 5.5% while the S&P is up 4.5% and the Nasdaq Composite has gained 3.4%.
"The market has weathered a lot of this bad news pretty well because underlying it all is a greater willingness to take risk," said Brian Gendreau, market strategist at Financial Network, a financial advisory firm.
On the Docket:
Monday: The Commerce Department will release February personal income and spending figures at 8:30 a.m. ET and the National Association of Realtors will issue its January pending home sales report at 10 a.m. ET.
Pending home sales are expected to increase 0.3% while personal incomes are expected to rise 0.3% and personal spending is to rise 0.5%.
Tuesday: Investors will get March consumer confidence figures from the Conference Board. With the turbulence in the oil markets and Japanese nuclear crisis, economists expect consumer confidence to fall sharply to a reading of 65.0 from last month's reading of 70.4.
Also out on Tuesday is the S&P Case-Shiller home price index for January.
Wednesday: The ADP private-sector jobs report is the first of three labor-related reports that investors will get this week. Wall Street is looking for an addition of 210,000 private-sector jobs.The ADP report has a mixed record of accuracy but it's typically used to forecast Friday's more-important government jobs report.

In earnings, discount retailer Family Dollar (FDO, Fortune 500) will report its results before the opening bell.
Thursday: Investors get weekly jobless claims at 8:30 a.m. ET, followed by the Chicago Fed's purchasing managers' index for March at 9:45 a.m. ET and the Commerce Department's February factor orders report at 10 a.m. ET.
Weekly jobless claims are expected to edge higher to 383,000 claims from last week's 382,000 claims. The Chicago PMI index is expected to fall to a reading of 69.5 and factory orders are expected to rise 0.4%.
Friday: In addition to the jobs report from the Labor Department, investors will get the Institute for Supply Management's March manufacturing index and the Commerce Department's February construction spending report, both released at 10 a.m. ET.
Economists expect the ISM manufacturing index remained steady at a reading of 61.4 while construction spending fell by 0.7%.
The major automakers such as General Motors (GM) and Ford (F, Fortune 500) will release their monthly sales reports starting at around 12 p.m. ET.