Washington's budget bomb: Clock is ticking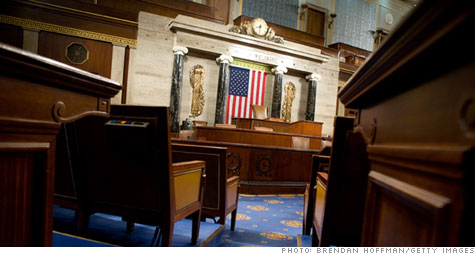 NEW YORK (CNNMoney) -- Congress is facing a busy couple of weeks. Really busy.
And like teenagers with focus problems, lawmakers are racing against the clock because they waited until the last minute to turn in their big assignments.
Here's what's ahead:
-- Find a way to fund the government beyond April 8. If Republicans and Democrats can't strike a deal, the government will shutdown.
-- Start considering a budget for 2012. (Yes, at the same time they try to wrap up 2011.)
-- Move toward a vote to raise the debt ceiling. The Treasury Department will update lawmakers -- as early as this week -- about how much time they have before the ceiling is reached.
For the moment, uncertainty is the only thing that's certain.
2011 budget
Here's the skinny on the 2011 budget: There isn't one. Lawmakers have instead passed six short-term spending bills. The latest expires on April 8.
The best case scenario is that Congress passes a six-month bill that would cover the remainder of the fiscal year. Or they could cobble together another short-term extension. (Read how short-term fixes impact agencies.)
If lawmakers don't pass some kind of extension, the government will shut down. (Read what a government shutdown would mean.)
Lawmakers spent last week in their home districts, and by all accounts, senior members of both parties tried to reach a compromise on 2011 spending. Apparently that didn't work out so well, as lawmakers were back to throwing partisan bombs on Monday.
This is basically where things stand: Republicans want to cut spending. Tea Party types really want to cut a lot of spending. Democrats are willing to give a little, but kinda like spending levels where they are.
At the moment, the two sides are billions of dollars apart. Clock's ticking!
2012 budget
As if to draw attention to its failure to pass a budget in 2011, Congress will kick off the 2012 budget process next week when House Budget Committee Chairman Paul Ryan, a Republican from Wisconsin, introduces his 2012 budget proposal.
This deadline isn't quite as pressing. Lawmakers have until Oct. 1, the start of the fiscal year, to do their constitutional duty and pass a budget.
If the process works as designed, once Ryan reveals his target spending levels, appropriations committees will hammer out spending plans to fit. The result will be 12 separate appropriations bills.
Congress will vote on each, and move them to the president's desk.
For 2012, there will be an added twist. Ryan is planning to include some sort of entitlement reform in his plan. And that's a potential sticking point. Programs like Social Security, Medicare and Medicaid are driving projected long-term debt higher -- but are cherished, and will require a mountain of political will to reform.
Debt limit
As if they needed another threat -- and this is a biggie -- the Treasury Department is expected to give Congress an update in the first few days of April as to when the United States will run up against the debt ceiling.
Treasury's last estimate put the deadline between April 15 and May 31.
If the ceiling is not raised, Treasury will not be allowed to borrow and therefore will not be able to pay the country's bills in full without taking drastic measures to cut spending or raise taxes.
In the past, Congress has always ended up raising the cap, if sometimes at the last minute. And some policy experts think they will do so again, but there's no guarantee precedent will hold.
Treasury Secretary Tim Geithner has warned lawmakers that even a short-term breach of the ceiling could have devastating implications.