Colombia deal clears path for 3 trade treaties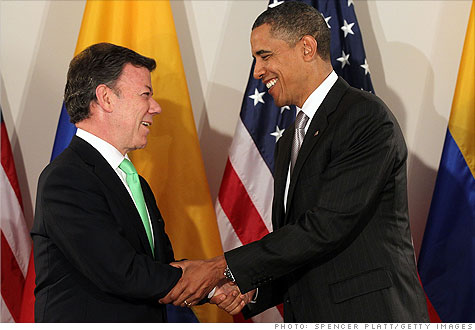 WASHINGTON (CNNMoney) -- The Obama administration on Wednesday announced a deal with Colombia to protect labor rights in that South American nation, paving the way for three different trade deals to be ratified by Congress.
The deal moves the United States a big step closer to nailing down a free trade treaty with Colombia that would immediately allow 80% of U.S. goods to be exported there duty-free, something U.S. farmers and manufacturers have long sought. Most Colombian goods are already sold duty-free in the United States.
Colombia's president, Juan Manuel Santos, will meet with President Obama on Thursday to formally announce the deal.
The White House stopped short of offering a timeline for when it will officially submit trade deals to Congress. But administration officials plan talks with lawmakers for scheduling work on the treaties, said White House international economic affairs adviser Michael Froman.
For months, lawmakers have been calling for trade deals with South Korea, Colombia and Panama, asking for all three to be submitted together.
The White House wanted Congress to move forward on a deal with South Korea that's been ready since December. It was unwilling to send Congress a deal with Colombia and, to a lesser degree, Panama until they got leaders of those nations to agree to crack down on violence against union officials and workers.
The deal announced Wednesday with Colombia does just that. For example, by June 15, Colombia is supposed to pass a law criminalizing threats made against labor leaders' rights to organize with up to five years in prison, the administration said.
In 2009, 101 union and labor activists were murdered worldwide, 48 of them in Colombia, according to a 2010 International Trade Union Confederation survey.
And, assuming Colombia makes "milestones" on new protections for union workers, the White House will send the deal to Congress "very shortly," said U.S. Trade Representative Ron Kirk.
Additionally, the Obama administration has made similar progress with Panama and that trade deal will be ready soon, Kirk said.
"We are reasonably confident that, as constructed, all three agreements should receive very strong support in Congress," Kirk said.
The deal would drop Colombian tariffs immediately on wheat, barley, soybeans, some beef, bacon, almost all fruit and vegetable products, peanuts, whey and cotton. And the deal would eliminate nearly all tariffs on U.S. farm exports within 15 years.
The deal is mostly a win for U.S. business interests; Columbia will enjoy strengthened relations with the United States. "We didn't have to make any other concessions," Kirk said.
A U.S. Chamber of Commerce study said that if Congress doesn't ratify the treaty, some 380,000 jobs and $40 billion in export sales would be at stake. Chamber President Thomas Donohue praised the deal, saying it "proves the United States can still lead on trade."
When Republicans took over the House this year, congressional experts predicted trade was one of the few areas that Republicans and Democrats could find common ground.
House Speaker John Boehner called news of the breakthrough with Colombia "welcome news," if "long overdue."
"Expanding markets for American goods and services will help create jobs in the U.S. and strengthen our economy," Boehner said in a statement.
Sen. Max Baucus, the moderate Montana Democrat who runs the panel that will work on the treaties, called the announcement a "major victory for U.S. ranchers, farmers and manufacturers."
However, some of the more liberal and union-backed Democrats say they're not convinced that union workers rights will be protected enough to support the trade deal. And they're worried that Colombia won't make good on its promises.
"While we welcome these initiatives, we are particularly concerned that we will not have time to determine whether they have been fully carried out," according to a statement released by Reps. Jim McGovern of Massachusetts, Rosa DeLauro of Connecticut, Mike Michaud of Maine, Jan Schakowsky of Illinois, and Linda Sanchez and George Miller, both of California.
Even President Obama had been more wary of trade deals when he was running for president.
In fact, in 2008, then-candidate Obama stopped by the same Fairless Hills, Pa., factory he visited Wednesday, decrying "lopsided" trade deals such as NAFTA and with China that have "put Wall Street ahead of Main Street, and cost us millions of jobs."
-- CNN White House producer Bonney Kapp contributed to this piece.