Blackout shuts down gasoline refineries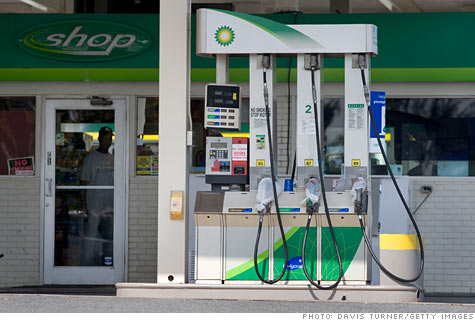 NEW YORK (CNNMoney) -- A blackout knocked out power to a BP refinery -- the third-largest gasoline refinery in the country -- as well as facilities operated by Marathon and Valero in Texas City, Texas on Tuesday.
Spokesmen for Marathon Oil Corp. (MRO, Fortune 500) and Valero Energy Corp. (VLO, Fortune 500) said that power had been restored and the refineries are in the process of coming back online.
Combined, the two refineries produce 290,00 barrels of gasoline a day.
Valero spokesman Bill Day said the power went out at 6 a.m. ET time and was restored by 7:30 that morning. He said the refinery could take "several hours to a couple of days" to completely come back online.
But spokesmen for BP (BP) said they didn't know when they were going to be getting their refinery back in working order.
The power went out for the BP refinery at 10:55 p.m. Monday, according to the company. No one was injured.
This isn't the first time that BP has had trouble with its Texas City refinery. An explosion at the refinery in 2005 killed 15 workers.
It's also one of the most productive refineries in the U.S., making 437,080 barrels of gasoline a day, behind two refineries owned by Exxon Mobil Corp. (XOM, Fortune 500) in Baytown, Texas and Baton Rouge, La.
Production from the three gasoline refineries represents a small portion of U.S. capacity. There are 141 refineries currently operating in the U.S., according to the Energy Information Administration.
Still, the shutdown rattled the markets, but it's unclear whether it will have any significant impact on prices at the pump.
Gasoline for May delivery rose by more than 3 cents a gallon on the New York Mercantile Exchange, but then eased to a gain of about 2 cents, to $3.34 per gallon.
"All of this adds an unwelcome fuel to already raging gas price fire," said Dan Dicker, oil trader for 25 years and author of "Oil's Endless Bid: Taming the Unreliable Price of Oil to Secure Our Economy."
He said that the power blackout "hiccup" is unlikely to have an immediate impact on gas prices, but it will contribute to the gradual trend of rising prices.
Dicker said that problem stems from aging infrastructure, since there hasn't been a new refinery built in the U.S. since the 1970s.
"[The refinery infrastructure] is just so apt to go down and have trouble," he said. "It's keeping together like an old Russian airplane with duct tape."
The national average for the price of unleaded gas was $3.869 per gallon on Tuesday, according to the motorist group AAA. It's gone up 26% since the start of the year.