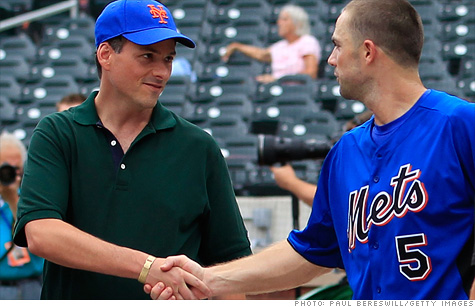 Hedge fund manager David Einhorn (left) shook hands with New York Mets third baseman David Wright at a game last month.
NEW YORK (CNNMoney) -- The New York Mets missed out on a $200 million home run when their investment deal fell through with hedge fund guru David Einhorn.
"After months of negotiation, the parties were unable to reach agreement and Mets ownership has decided to explore other options," Mets spokesman David Newman said a press release on Thursday.
Einhorn, president of hedge fund Greenlight Capital, was not immediately available for comment.
The Mets statement said the "period of exclusive negotiations with David Einhorn regarding a minority, non-operating interest in the Mets has expired and ownership has decided not to extend the exclusive negotiation period any further."
Einhorn and Mets owners Fred Wilpon and Saul Katz had announced on May 26 a preliminary deal where Einhorn would become a minority of the team.
"We will engage with other individuals, some who have been previously vetted by Major League Baseball, along with other interested parties, regarding a potential minority investment into the franchise," said Wilpon, who is Mets chief executive. "My partners and I thank David for his interest in considering this opportunity and wish him well in the future."
Einhorn's stake would not have allowed him any control over company decisions. When reporters asked him why he would make such a large investment in a team with such massive financial problems, Einhorn said it was his dream, since age seven, to be a part of the Mets baseball team.
The Mets owners were among thousands of investors who sank money into the firm of Bernard Madoff, which was a front for the most massive Ponzi scheme in history.
The law firm of Irving Picard, the court-appointed trustee in the recovery of assets lost to Madoff's scam, has sued all investors who profited off Madoff's pyramid-style scheme, including the Mets owners.
The Mets owners claim they were ignorant of the Ponzi scheme, believing instead that Madoff was a legitimate investor. But Picard thinks otherwise. Not only did Picard sue the Mets for their $300 million in Ponzi profits in federal bankruptcy court in New York, but he went a big step further: He is also suing them for the $700 million that they invested in the firm.
Judge Jed Rakoff of U.S. District Court in New York has taken control of the case, and its outcome remains to be seen.
Meanwhile, Madoff is languishing in a federal prison in North Carolina, where he is serving a 150-year sentence. He was arrested on Dec. 11, 2008. He pleaded guilty the following March to 11 counts in federal court, all related to running the world's biggest Ponzi scheme.
Madoff was a Mets fan and had the customized satin jacket to prove it, until it was confiscated by U.S. marshals and auctioned for $14,500. The money will be used to compensate victims.
The trustee has so far recovered about $10 billion in stolen assets, about half of the estimated total losses.