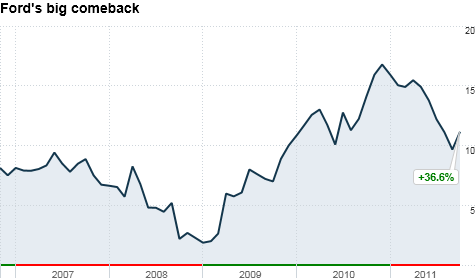 Although Ford's stock has taken a notable hit in 2011, it's still up sharply from the lows during the recession. That's led to speculation Ford may soon reinstate its dividend.
NEW YORK (CNNMoney) -- With long-term bond yields still hovering around a piddling 2%, it is no surprise that many investors are hungry for stocks that offer juicy dividends.
Ford Motor (F, Fortune 500) is currently not one of those stocks. But analysts think that could soon change.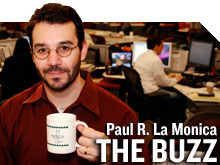 Ford, which suspended its quarterly dividend in 2006, has enjoyed a stunning turnaround in the past few years. The company was the only one of Detroit's Big Three to avoid a government bailout/bankruptcy following the worst of the financial crisis.
All the while, Ford's sales and market share have been on the rise and the company has been cutting back on its debt load.
Even though shares have pulled back sharply this year on renewed economic fears, Ford's stock remains well above the lows it hit during the early part of 2009 when things looked bleak for all automakers.
That's led to increased chatter among traders that Ford could soon be close to restoring its dividend. Ford has itself fueled the rumors a bit in the past month.
At two conferences in September, CFO Lewis Booth said that Ford wanted to pay a dividend again but was waiting for its debt to be brought back to investment grade status by rating agencies first.
However, Ford controller Bob Shanks said at a conference later in September that the company expects to pay a dividend sooner rather than later and added that Ford did not need to be investment grade to restart the dividend.
A Ford spokesperson reiterated this Thursday, saying in an e-mail that, "as our balance sheet continues to improve, we expect to reinstate dividends. We expect this to occur in the relatively near future."
So when might Ford bring back the dividend? David Whiston, an analyst with Morningstar in Chicago, said the big wild card is the status of the next labor contract with the United Auto Workers union.
The UAW has reached a tentative agreement with Ford on a new deal, but members of the union still have to vote in favor of the deal. (UAW members at GM have already ratified a new contract, and the UAW reached a tentative deal with Chrysler Wednesday.)
If Ford's union workers do not agree to a deal after voting concludes next week, a strike is possible. Whiston said he does not expect Ford to announce a dividend if it has to suddenly contend with a significant work stoppage.
But if a strike is averted, Whiston said it's possible Ford could tell investors it will reinstate the dividend when it reports third-quarter results later this month.
At the latest, Whiston thinks Ford will make a dividend announcement in January 2012 --- either at the annual North American International Auto Show in Detroit or when Ford releases its fourth-quarter and full-year earnings.
Still, what about the issue of the rating agencies? Moody's has Ford rated at Ba2, which is two steps below investment grade. Standard & Poor's has Ford at BB-, three notches under investment grade status.
Both rating agencies have hinted in recent weeks though that Ford (as well as GM (GM, Fortune 500)) could be upgraded. It all depends on the outcome of the UAW deal.
But Michael Ward, an analyst with Ticonderoga Securities, said that even if the rating agencies don't act soon, Ford can still afford a dividend now. He pointed out that Ford's automotive business now has $8 billion more in cash than debt.
"If you look at the cash Ford generates and what they are capable of, the company can afford to pay a dividend again at a pace that it can maintain," he said.
Ward also argues that S&P and Moody's are behind the curve regarding upgrades, noting that Ford's corporate bonds trade as if they were already investment grade.
So how much could (or should) Ford pay if it brings back the dividend?
When Ford suspended the dividend in September 2006, it was 5 cents a share per quarter. If Ford were to pay a 20 cent annual dividend, that works out to about a 1.7% yield based on Ford's current stock price. Whiston thinks that's reasonable.
"I think Ford would only want to start with a dividend yielding about 1% to 2%. I'm not looking for it to be like a tobacco company or utility," Whiston said, referring to two industries that are known for paying above-average dividends.
But with the current yield for dividend-paying stocks in the S&P 500 at about 2%, Ward thinks Ford could do more to try and attract income-hungry investors.
Ward said that if Ford paid a quarterly dividend of 10 cents a share, that would cost the company (which has about 3.8 billion shares outstanding) approximately $1.5 billion. And a 40-cent annual dividend would yield nearly 3.5%.
Is that too much for a company that's still in the middle of a turnaround? Perhaps. But keep in mind that Ford was paying a 10-cent per share quarterly dividend in early 2006. It cut the dividend to 5 cents in July of that year before suspending it altogether a few months later.
It's possible that Moody's and S&P would frown upon Ford for fully restoring the dividend to pre-recession levels. But Ward said Ford should not worry about that.
"Ford will reinstate the dividend in the near-term and I think that's a good move for investors," he said. "Shareholders own the company, not the rating agencies."
The opinions expressed in this commentary are solely those of Paul R. La Monica. Other than Time Warner, the parent of CNNMoney, and Abbott Laboratories, La Monica does not own positions in any individual stocks.