Slated to enter the U.S. market for the 2011 model year, the Cruze could replace the Cobalt small car.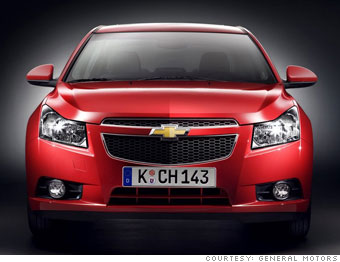 General Motors released the first photographs of what will be the company's new Chevrolet Cruze compact car Thursday. The Cruze represents a more aggressive attempt by GM to truly take on the small car market, according to an industry analyst.
"Particularly at GM, they've always viewed their small cars with disdain," said Ed Kim, an analyst with industry marketing consultants Autopacific.
Where cars like the Chevrolet Cobalt, which the Cruze will replace, are seen as money-losers needed to meet government fuel economy requirements, the Cruze is a serious attempt to create a more-than-competitive small car, said Kim.
The Cruze is expected to be more expensive than the Cobalt, said Kim, so GM will need to attract consumers looking for more than just point-to-point transportation.
With rising gasoline prices, GM executives have said in the past that American consumers should be willing to pay a little more for a nicer-looking, better-driving small car.
The Cruze could do the trick, said Kim. "It certainly looks like a higher cost car."
NEXT: Design language
Last updated August 21 2008: 1:37 PM ET
Email
|
Print
|

Digg this story
|

RSS