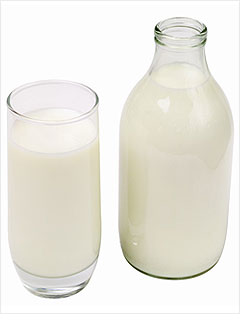 Raw milk
Banned in: 21 states
Proponents of raw milk - milk that is not pasteurized or homogenized - tout its superior flavor and nutritional value, even claiming that raw milk prevents asthma and lactose intolerance. But government agencies worry that bacteria present in unpasteurized milk poses a health threat.
Consequently, it is illegal to sell raw milk in Alabama, Alaska, Colorado, Delaware, Florida, Georgia, Hawaii, Indiana, Iowa, Louisiana, Maryland, Michigan, Montana, New Jersey, North Carolina, North Dakota, Ohio, Tennessee, Virginia, West Virginia and Wyoming. Other states, such as Kansas, Minnesota and Wisconsin, permit sales of small quantities direct from the farm.
Spring River Dairy, based in Ligonier, Ind. - a ban state - offers "herd-shares," wherein customers buy shares of its grass-fed dairy cattle, but not the milk itself. In exchange for boarding "their" cows at Spring River, customers are entitled to a gallon of raw milk per week. In many states, herd-shares and cow-shares are also illegal.
"I can see why big dairy companies can't sell raw milk in grocery stores," says Spring River owner Lavern Fry. "It wouldn't keep. But I can't see why it shouldn't be legal for someone to buy it raw from the farm, if they prefer it that way."

NEXT: A (surprisingly) legal high