The Fourth of July is the Big Bang, make-or-break weekend for fireworks companies, which are facing both higher sales and soaring costs. Here's our behind-the-scenes look at what's coming this weekend in five cities.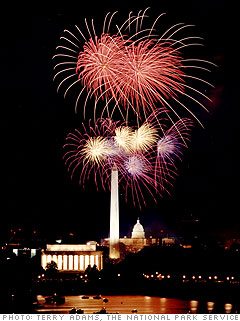 Company:
Pyro Shows of LaFollette, Tenn.
July 4th shows:
150
For the last five years, Washington residents have huddled among the capital's monuments on Independence Day night to watch the pyrotechnic handiwork of Pyro Shows. The company has put on eight of the last 13 displays.
This year's show will run 27 minute and include a tribute to the Olympics - look for interlocking rings, like the Olympic symbol. China produced most of the show's pyrotechnic shells, but about 10% came from Rozzi's Fireworks in Ohio and 10% came from Spain, where products have become increasingly expensive as the dollar's value has fallen.
NEXT: Chicago