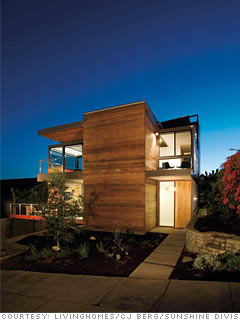 Built by Steve Glenn, who founded a Los Angeles construction firm named LivingHomes, and designed by the iconic Southern California architect Ray Kappe, this structure stands as one of the greenest private residences in the country. The 2,480-square-foot home is 80% more energy efficient than a conventional structure of similar size. It is the first house to receive a platinum LEED rating, the highest environmental standard set by the nonprofit U.S. Green Building Council.
Glenn, who lives in the house, now has 17 more under construction that are based on his green design. Most of the elements in the Highland house derive from recycled materials or are manufactured using sustainable manufacturing processes. It took only one day for a crew with a large crane to assemble the skeleton of this home, a prefab built at a factory in Sante Fe Springs, Calif. That means the house was produced with 75% less construction waste than traditional home construction. Also, workers drove fewer trips to the site in polluting trucks.
The house cost $390 a square foot, or about $900,000 - some 25% less than typical high-end construction in that neighborhood. Glenn's monthly power bill is $10, compared with about $100 for a conventional house - a 90% savings.
Read more about LivingHomes' plans and philosophy.

NEXT: Making solar pay