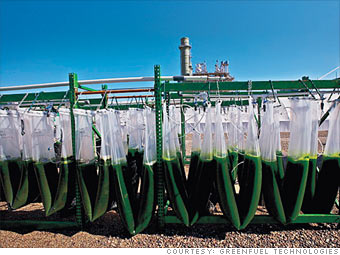 These bags of algae eat exhaust from an Arizona electric-power plant.
Call it the law of unintended consequences. High demand for corn ethanol for motor fuel is helping drive up food prices worldwide. An entrepreneur in Cambridge, Mass., thinks he has a better idea: fuel made from algae.
Isaac Berzin, who founded GreenFuel Technologies in 2001, is working with Arizona Public Service to scale his process to commercial levels. He has built a small algae farm next to one of the utility's natural-gas plants. The algae, which grow in racks of plastic bags, feed on the carbon dioxide in the exhaust of the power plant. The system not only reduces the greenhouse gases coming from the power plant by 40% but can also produce biodiesel and animal feedstock as a byproduct without competing with the global food supply.
A tricky business: Read about GreenFuel's obstacles.

More galleries