In his new book The Plot to Save the Planet, Fortune Small Business editorial director Brian Dumaine chronicles how entrepreneurs are tapping into what could be the biggest economic opportunity of the 21st century: clean, money-saving technology.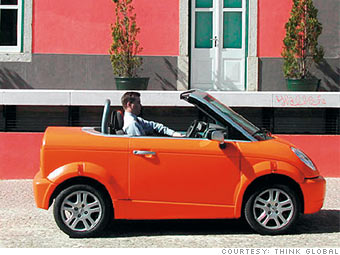 The Think convertible can go 100 miles on a charge.
For the first time since the early 20th century, America is seeing a flowering of entrepreneurship in the auto industry. Today at least 15 new electric-car companies, each working on a wide range of technologies, have launched or plan to launch models.
Phoenix Motorcars, based in Ontario, Calif., will sell its electric pickup trucks and SUVs by the end of 2008. Its 4,800-pound truck can go 100 miles on a five-hour charge from a home outlet or on a ten-minute one at a special charging station. Its electric pickup will cost $47,500, about $10,000 more than the price of a comparable conventional pickup. PG&E, the California utility, has ordered four of the vehicles. At first the company will lose money on each truck it makes, but it is counting on California clean-energy subsidies to keep it rolling until the price of its battery technology falls.
Think Global, a Norwegian startup that bought what was once Ford's electric-vehicle program, has sold about 1,800 of its Think City, a tiny electric commuter car, in Norway. So far the company has raised $95 million from investors, including General Electric. The two-seater, which comes in convertible and hardtop, will sell for about $25,000 and go 100 miles on a few hours' charge. The firm aims to sell some 30,000 in the U.S. in 2010.
Read on for more about Think Global's U.S. plans.
NEXT: A low-energy lifestyle