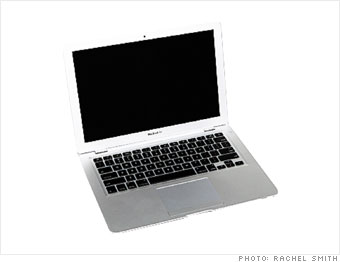 Price: $1,799
Weight: 3 pounds
Size: 13"x9"x1"
Battery life: 3 hours
Speed: 1.6GHz
Ram: 2GB
Grade: A-Ergonomics:
About the same size as the Lenovo, the Air is equally easy to use. It has a huge screen, a full-size keyboard and a large touchpad.
Performance:
No DVD drive and limited wired networking capability out of the box. But the processor is impressive
Bottom line:
The Air isn't as versatile as the Lenovo and may be harder to use for business because it doesn't run Windows as its primary operating system. Still, it's a solid runner-up.
NEXT: Sony Vaio VGN-TZ250N
Last updated July 11 2008: 9:00 AM ET
Email
|
Print
|

Digg this story
|

RSS