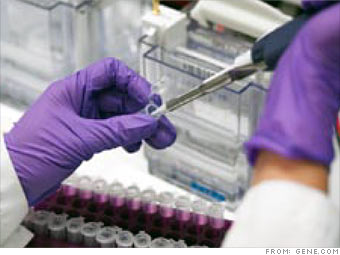 Debt as a % of capital: 16%
Return on capital: 23%
The biotech business is all about what new products are coming down the pipeline. So, like most drugmakers, Genentech uses its cash to fund research and development.
And San Francisco-based company, which discovers and develops a wide range of pharmaceutical products, has emerged as one of the industry's leaders.
"Genentech has the broadest clinical pipeline in the biotechnology industry," according to a recent research report by JPMorgan analyst Geoffrey Meacham.
What's more, Genentech has a successful track record for using its cash to fund research in areas that other drugmakers may have overlooked.
"Historically, the company has been effective in focusing its resources in areas of significant unmet medical need, and hence blockbuster sales potential," Meacham wrote.
The company has been particularly adept at finding new cancer treatments, says analyst Eric Schmidt of Cowen and Company. And that's a big reason why analysts expect Genentech's earnings to increase at about a 23% clip a year, on average, for the next few years.

More galleries

Last updated June 20 2008: 1:08 PM ET