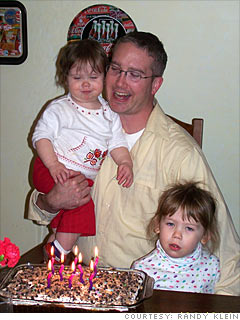 Randy and Leslie Klein are saddled with daycare costs for their daughters, Evelyn and Natalie.
Accountant, 40, Syracuse, N.Y.
I am a professional accountant and my wife is a teacher. We have two small children ages 4 and 2. I lost my good paying federal job in September 2006, the same week my second daughter was born. I was unemployed for six months.
Before losing my job we were somewhat overextended with several credit cards due to inattention and the American need for instant gratification. I never expected to lose my job and did not worry too much about the debt load we carried.
We also really did not plan for the high cost of daycare when we purchased our home. With two kids in daycare we pay more for that than for our mortgage and property taxes each month.
Right now our credit card debt stands at about $30,000. The lenders aren't too interested in working with consumers as demonstrated by the 29% annual percentage rate we pay on the two largest balances due to being late with payments.
I have contacted the Consumer Credit Counseling Service but their debt management plan is a higher monthly balance than we can fit into our budget.
My plan right now is to limp along and pay what we can, when we can, hoping the economy and employment prospects will improve. I am now employed but at a salary about $20,000 lower than when I was laid off.
NEXT: David Shoffner: Budget deficit