Americans deep in debt are struggling more than ever amid the credit crisis and economic downturn. See how people got in the hole and what they're doing to get out.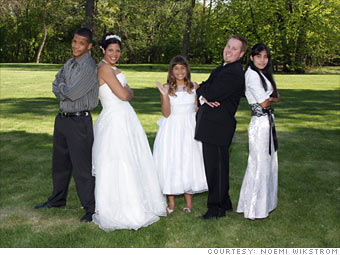 The Wikstroms are feeling the pain of high-interest credit card debt.
Satellite operations technician, 34, Colorado Springs, Colo.
My husband and I live in Colorado Springs, Colo. We both have good jobs, live in a modest house with the kids, the dog, the cat.
We both carried high balances on our credit cards when we got together. In my particular case, I never paid attention or understood the impact that high balances will have in my financial life.
For the last two years we have been trying to pay the credit cards down using the pyramid method -- the highest interest card first and continue down the list.
However, as much as we plan and budget, there are always surprises -- gas prices through the roof, student loans, medical bills and credit cards.
A number of credit cards are just pure evil. The interest accumulating each month is as high as the payment just made. At times I get paid on Friday and I am broke on Monday just paying debt away. If I could turn back time, the best advice I could give myself is to live a modest life. Who cares about the type of car you drive or the clothes you wear.
Nevertheless, we are beginning to understand the beauty of the Goodwill store, the Salvation Army and Craigslist. We are considering trading in our cars for a more fuel-efficient vehicle and using public transportation. From time to time, we have to adjust our notion of what is necessary and go back to the basics -- what we really need to provide for our family.
NEXT: Angela Sarno: Debt control