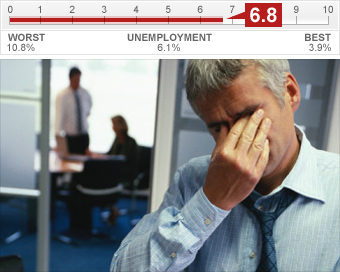 According to the Department of Labor, America has lost 760,000 jobs this year - almost 160,000 of them in September alone,
before
the worst of the financial crisis set in.
Despite that, the nation's unemployment rate is a relatively low 6.1%.
To put that into perspective, consider that during the Great Depression, unemployment reached 24%. During the last oil-fueled recession, in April 1976, unemployment hit 9%.
The methodology for calculating unemployment has been the same the past 28 years, but the composition of the job market has changed substantially over that time.
When things are good, like they were in the tech boom, unemployment is low. Indeed, the lowest unemployment rate we've seen since 1980 was in April of 2000, when it stood at 3.8%.
When things are bad, as they are in a recession, unemployment is high. The highest unemployment rate since 1980 was 10.8%, in November 1982.
Putting everything on a 10-point scale, if you set 3.9% unemployment equal to ten (the absolute best on our timeline) and 10.8% unemployment equal to zero (the absolute worst), where are we now?
Jobs: 6.8

NEXT: Personal Income

Last updated October 31 2008: 9:42 AM ET
Email
|
Print
|

Digg this story
|

RSS