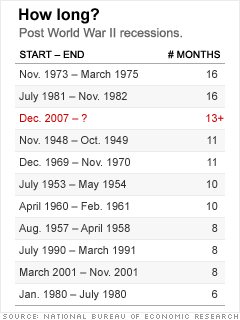 Dow closed at: 8,149.09
Change in points: -679.95
Percentage change: -7.7%
Confirming what many had long believed, the National Bureau of Economic Research announced Dec. 1 that the economy is in a recession - and has been for some time. NBER, the official body that measures economic cycles, said the United States has been in a recession since December 2007.
Stocks tanked, even though the news was hardly surprising. But economists predicted the recession could last well into 2009, perhaps making this the longest and one of the deepest recessions of all time.
Investors also reacted negatively that Monday to their first glimpse at mixed retail-sales data from the opening of the holiday shopping season. Though Black Friday sales were up, analysts maintained predictions that retail sales would be the weakest in six years.
The market's selloff came after a huge 5-day surge in which the Dow gained just under 17% in the closing week of November. In a sign of a tumultuous year, that rally came after stocks hit multi-year lows Nov. 20, with the Dow sinking to near 7,500 points.
NEXT: Oct. 9 - Volatility spikes after Treasury flip-flops
Last updated December 29 2008: 2:39 PM ET
Email
|
Print
|

Digg this story
|

RSS