Stocks were on a roller coaster in 2008 as investors tried to keep up with bailouts, bankruptcies, a credit crisis and a long recession.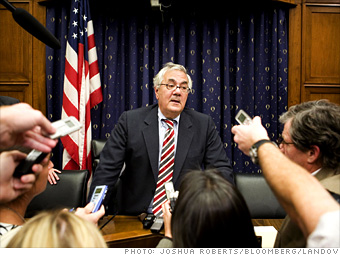 House Financial Services Committee chairman Barney Frank, D-Mass., talks to reporters after the House failed to pass the bailout bill on Sep. 29.
Dow closed at: 10,365.45
Change in points: -777.68
Percentage change: -6.98%
For the Dow Jones industrial average, 2008 is shaping up to be the worst year since 1931. On Jan. 2, the Dow opened at 13,261, but the index twice closed below 8,000 this year and now stands at around 8,500.
Sept. 29 was the single most damaging day of this abysmal year for the stock market. The Dow fell by nearly 800 points, its largest point drop in history, after the House of Representatives rejected the proposed $700 billion financial-sector bailout bill - a version of which it would eventually pass later that week.
The House voted down the proposal by a slim 228-205 margin after working for days to hash out an agreement.The defeat shocked the global markets. Financial institutions and investors were looking for a rescue from a credit crunch that exploded into a financial crisis after Lehman Brothers' collapse two weeks earlier.
NEXT: Oct. 15 - Biggest percentage decline since 1987
Last updated December 29 2008: 2:39 PM ET
Email
|
Print
|

Digg this story
|

RSS