Small companies account for more than 40% of the nation's payroll - and as the economy worsens, their staffing cuts reverberate through local communities.
Expansion - and paycheck - on hold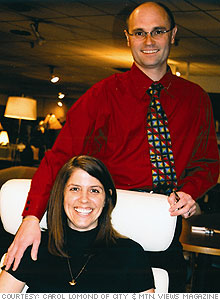 Knudsen and his wife, who helps run their business.
Kristoffer Knudsen
CEO, Copenhagen Furniture
Lakewood, Colo.
I've owned my furniture business for two years now. Two months ago, I had nine employees, but sales have dropped off so significantly that we are now down to four.
We sell furniture products from Denmark and Scandinavia that are very high-end. In the past, economic dips didn't really impact my customer base, but now, even the wealthiest customers are being cautious. We're eking by and will hopefully make it through by tightening expenses and improving the bottom line any way we can. For me, it is a good feeling to provide my employees with good salaries, so letting them go is a sad state of affairs.
I have gone without a paycheck for months to salvage the business, but all the bad news in the press and the irresponsible politics going on makes it so difficult in the retail environment. I eventually hit the limit on my credit line and couldn't secure another one.
The small staff isn't just difficult because we all have to pick up more responsibilities; not long ago, our hope was to build two or three other small showrooms in locations across the city of Denver. But now, with so few people, it is impossible to expand.

NEXT: Hard times getting harder