Rising costs and offshore rivals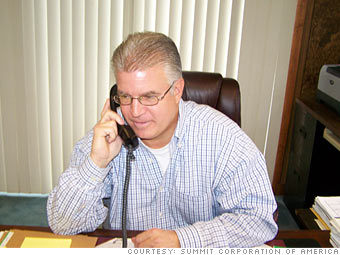 Harry Scoble
Owner, Summit Corporation of America
Thomaston, Conn.
We are in the electroplating business, coating metal onto metal for the automotive and electronics industries. Summit has been in business for 60 years - I bought it after it went bankrupt nearly four years ago. The nearby city of Waterbury used to be a booming brass town, but it has taken a hit as this type of work continues to be offloaded to China and countries with cheaper labor. Also, our commodity costs up are up, so our industry had its fair share of problems before the market took a turn for the worse.
We had to lay off employees now and again, but generally we were getting by and were even making improvements to our facility by becoming more environmentally compliant. But recently, we've had to lay off employees more regularly and cut back work hours at the facility.
In the past two years, we've shed 30 employees. Not only is it tough doing more with less, but it's demoralizing for the employees to see peers lose jobs. Unfortunately, we really need to conserve to work around cheaper, offshore competitors, rising costs and an economy that's really cutting into the bone of our business.

More galleries