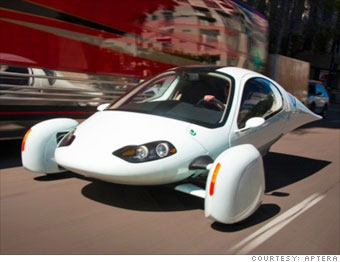 Model shown: Aptera 2e
Price: $25,000 to $40,000
Power: Electric only (plug-in hybrid version available later)
Expected sale date: Early 2010
Aptera is working to finalize its last round of funding before it starts producing its three-wheeled car called the Aptera 2e. While the car looks like something out of a sci-fi movie, Aptera promises all the functionality and safety of a regular four-wheeled car. The three-wheel design helps cut down on wind resistance to help minimize energy consumption. Four wheeled versions are slated for later on.
The all-electric Aptera 2e had been set to start production later this year, but has run into some delays due to design changes. Nevertheless, Aptera's chief marketing officer Marquis McCammon remains confident that the company will begin production on the car this year.
Separately, Aptera is also planning a plug-in hybrid version of the car, which adds a gasoline engine to give the car a 300 mile driving range.
McCammon contends that the company can be profitable with just the two models, but Aptera eventually plans to branch out into more mainstream products.

NEXT: Bright