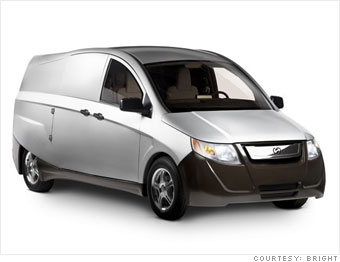 Model shown: Bright Idea
Price: Not announced
Power: Extended-range electric
Expected sale date: 2012
Bright is aiming at the commercial market with this plug-in hybrid van called the Bright Idea. It's targeted at big companies that buy vehicles in bulk, an area that Bright says has been ignored by other electric automakers. Bright boasts of working with companies like Duke Energy and Johnson Controls to help design its vans.
For now, the Bright Idea exists only as a prototype. It uses electric motors to drive the rear wheels, and a gasoline engine pitches in to drive the front wheels once battery power begins to run down. At that point, it will operate like a typical hybrid vehicle with fuel economy of around 40 miles per gallon, the company says.
Production is scheduled to begin in 2012. Bright won't say how much the van will cost, but says customers are interested because of all the money commercial outfits can save on gas.
"Our whole thesis is based on the fact that fleet customers in the U.S. need an economic solution," said Lyle Shuey, Bright's director of marketing.

NEXT: Wheego