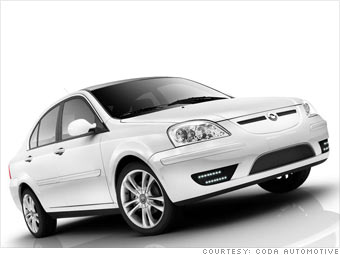 Model shown: Coda
Price: $35,000
Power: Electric only
Expected sale date: Late 2010
Coda pointedly sets itself apart from companies like Telsa and Fisker by saying that its car is "not elitist."
Its mid-sized sedan is intended for "real people," the company says, not wealthy folks who like to dabble in electrified transportation.
The challenge for Coda is that, while their car steers clear of those high-priced competitors, it'll be driving right into the teeth of existing mainstream automakers like Ford, Nissan and General Motors. Those automakers, and others, will be coming out with similarly priced plug-in cars over the next couple of years.
Coda sees a window of opportunity, though, because it will be on the market earlier than some of those competitors. Also, it's operating a joint venture with its battery supplier, ensuring a good supply of that vital component.
The Coda's biggest downside could be the car's design. Electric auto fans just don't seem to be all that impressed by it, said Sebastian Blanco of Autobloggreen.com.
"Nobody I've talked to is really passionate about this car," he added.

More galleries