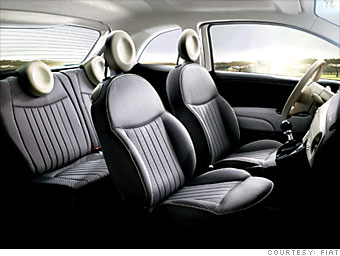 Ford Motor Co. recently announced its decision not to bring the Ford Ka to the United States. Ford thought the Ka was simply too tiny for American drivers.
That would seem to bode ill for the 500 since the Ka and the 500 were developed together and share much of their engineering. And they are, of course, similar in size.
But there is more to a car than just its size, pointed out Jack Nerad of KBB.com. The Ford Ka is a spiffy looking machine -- all swooping curves and bulging fenders -- but it's no lifestyle statement. The 500 stands apart.
"It's that kind of really interesting, kind of separate-from-everything car that has a chance to do quite well," he said.
More important than how many 500's Chrysler dealers can sell, Nerad said, is how many customers it brings in.
"I think it can find a market," he said, "and I think it will bring people into their showrooms."

NEXT: Maybe a squeeze for Americans