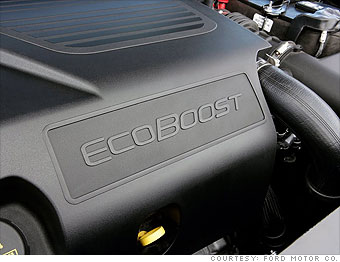 Ford Taurus and Flex, Lincoln MKT and MKS
The company that invented the mass-market V8 engine in the 1930s - because Henry Ford insisted, for some reason, that cylinders must come in multiples of four - has finally come up with its replacement.
Ford's EcoBoost V6 engines use two turbochargers combined with a complex computer-controlled fuel injection system to produce the power of larger V8 engines. What's more, these EcoBoost engines use no more fuel than Ford's non-boosted engines of the same size. And they'll run just fine on regular gasoline, although you'll need premium fuel for maximum power.
Another benefit of this system, besides the power output, is how quickly that power is delivered. Because the engines are relatively small, they get to full throttle more quickly, delivering their maximum pulling power almost as soon as you press down on the gas pedal.
Coming soon: EcoBoost 4-cylinder engines that deliver like V6s.

NEXT: BMW: Night vision