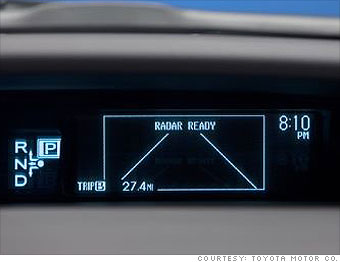 Toyota Prius, Lexus HS250h
Plenty of cars today have what's known as "active cruise control." Unlike typical cruise control systems that allow you to simply set a speed, these systems use radar to scan the road ahead for slower moving vehicles. Your car will then automatically slow down to maintain a safe following distance.
A lof of cars also have lane departure warning systems. These use cameras to find lane markings on either side of the car. They emit a warning if you're about to drift out of your lane.
Lexus' Lane Keep Assist takes these systems a step further. When you're using active cruise control, the Lexus LS 250h will also use its lane departure warning system to not only warn you that you are drifting but to actually correct your path. If your car starts to drift out of its proper lane, the car will gently steer itself back to the center.
It's not too insistent, of course. If you really want to leave your lane without using a turn signal you just need to apply a little muscle to the steering wheel.

NEXT: Ford: Work Solutions