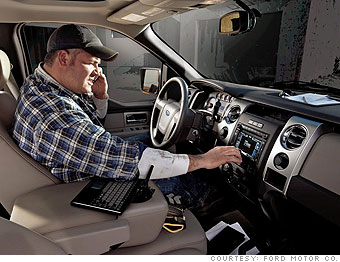 Ford F-series trucks. E-series vans and Transit Connect vans
For people who simply drive their cars, and don't practically live in them, Ford offers Sync, a system that ties your cell phone and MP3 player in with the car's stereo and a very easy-to-use voice recognition system. But for those who use their truck or van as mobile offices and tool sheds, Ford now has a system called Ford Work Solutions.
One feature, called Tool Link, allows you to put radio-frequency ID tags on your tools and equipment. RFID scanners in the back of the van or the bed of the truck can then tell you whether you have all the tools you need for a given job or if you've left any behind at the job site.
The in-dash computer provides, as the name implies, a computer complete with spreadsheet, word processing and presentation software built right into the truck. There is also a remote keyboard. Besides all the onboard software, you can also access a computer somewhere else - say, the one on your desk at the office - right from the truck.
Additionally, there are systems for fleet management that allow you to check, from your truck, on all the other vehicles in your fleet.

NEXT: GM: Pause-and-Play Radio