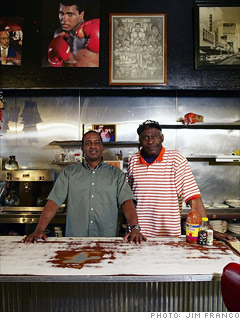 Roderick Ephram (left) and Bennie Bumpers of Peaches' Cafe, which has been family owned since it opened on Farish Street in 1961.
On Sundays, beeline to downtown and brunch at
Two Sisters' Kitchen
(707 N. Congress St., 601-353-1180). Don't skimp on the fried okra or the fried chicken, and be sure to leave room for peach cobbler.
Two Sisters' is closed on Saturdays, so instead head to Farish Street to devour some tasty soul food at Peaches' Cafe (327 N, Farish St., 601-354-9267), which has been open since 1961.
And for green beans and blackberry cobbler that will haunt your dreams, don't skip Collin's Dream Kitchen (1439 Terry Road, 601-353-3845).

NEXT: Evening entertainments: Books & blues