Money picked the top 100. Now readers have their say: From fun festivals to natural beauty, they explain why their hometown should be the Best Place to Live.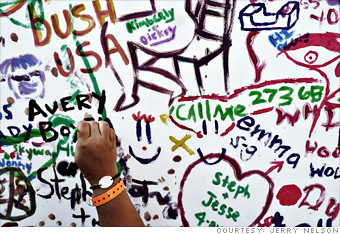 What makes it great:
Bele Chere music & arts festival
Nominated by: Jerry Nelson, 53, freelance photographer

Bele Chere is a three-day festival, the largest in the Southeast. 300,000 people come to town for that. And they put up about half a dozen painted plywood panels for people on the street to write up whatever they wanted.... Those panels give people the outlet for freedom of expression. That's one thing that makes Asheville so neat....
Bele Chere was started 32 years ago... to help revive downtown Asheville. And it's taken off, it's grown and grown. They had four music stages, and bands were going the whole weekend.... The music covered every genre there is -- there was heavy metal, there was blues, there was jazz, there was country, there was everything. I think it's another example of the openness and acceptance that is Asheville.... The people in Asheville come together as a natural order of being.

NEXT: Roanoke, Va.