Money picked the top 100. Now readers have their say: From fun festivals to natural beauty, they explain why their hometown should be the Best Place to Live.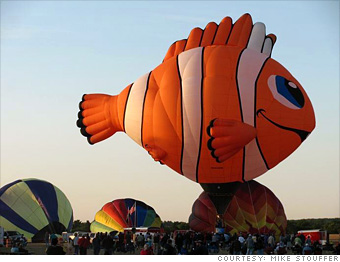 What makes it great:
Wausau's annual hot-air balloon rally
Nominated by: Mike Stouffer, 48, freelance photographer

It brings people in from all over the state... It's rewarding watching [the balloons], and meeting a lot of cool people....
[You] can't beat Wisconsin in the summertime. There's something about the air, you have all the trees, and the fresh air, and people in the Midwest are pretty friendly....
[I love] just seeing all the families out there, it's such a family event.... All the planning, making the community have a good time -- in these times it's even more important. [Wausau's a] strong family town. During the good times, everyone reaps and shares, and in tough times everyone tries to get together.
NEXT: Orange Beach, Ala.