Where the $819 billion will - and won't - show up in your life.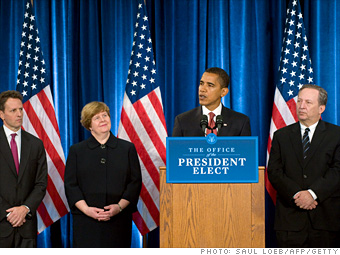 Obama and his economic team are pushing hard for hundreds of billions of dollars in government spending and tax cuts to boost the economy.
Now that the House has approved over $800 billion to juice the economy, it's clear that some of the money will quickly and directly affect most Americans' lives, while other spending is intended to produce either longer-term, less tangible benefits or is targeted at narrower segments of the population such as the unemployed.
Although the sum is huge, the money isn't intended to turn the economy around, but to keep it from falling even further into decay.
Detractors say spending on stimulus will do little more than drive the country deeper into debt. Many Republicans are arguing for a plan heavier on tax cuts and lighter on government spending. They'll push those ideas when the plan is debated in the Senate.
But supporters - including most Democrats and President Obama - say it would ultimately cost the United States more - in the form of lost jobs, economic output and lost tax revenue - to delay. They want the plan enacted quickly.
Here's how some of the billions in the House stimulus bill could change your life.
This is not a complete list of the spending, and the numbers are approximate and will likely change before any bill is enacted.
NEXT: Your paycheck
Last updated January 30 2009: 12:56 PM ET
Email
|
Print
|

Digg this story
|

RSS