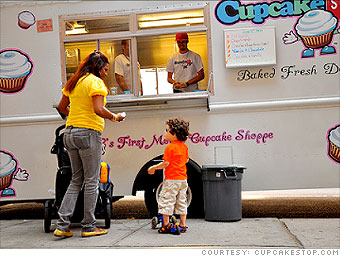 Lev Ekster
Age:
25
Former job:
New York Law School grad
Current job:
Works "12 days a week" selling cupcakes out of a truck
Hometown:
New York
Toward the end of my fall semester of law school, while preparing for finals, I found myself going to bakeries in Manhattan to get cupcakes after leaving the library in the evening. I realized I wasn't satisfied with the product out there, not to mention the long lines and inconvenient locations.
When I found out that I wasn't going to get a formal offer for employment after graduation I started to think more about producing my own cupcakes. I had some money saved up from working the past two summers during law school and then the last little bit of money that I needed I got a no-interest loan from my parents. We did a couple of small private events in May but the actual grand opening of CupcakeStop -- New York City's first mobile gourmet cupcake truck -- was June 3.
NEXT: Making travel affordable