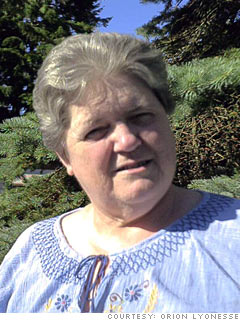 Unemployed since:
April 2008
Benefits expired: June 2009
Filed in: Washington
Age: 63
I was laid off from my administrative assistant job in 2006, and since then I've had only two terrible temp jobs at call centers. At the first, I had to call late-payers to tell them their electricity was being shut off. I left in December 2007. I took another call-center job reconciling health claims, but I was laid off in April 2008.
Last summer, I was diagnosed with cancer; I'm in collections on most of those bills, because I have zero money to pay them. They say I'm in remission now, but I can't afford to go to the doctor, although I'm supposed to every three months.
Luckily, I worked long enough at that second job to qualify for unemployment -- only about $180 a week. I received extensions, but they're all gone now. I've used up all my savings and retirement money. All that's keeping me afloat is a monthly disability check. I earn a very small amount selling jewelry online and at farmers' markets, but those end in this area in September.
I'm getting kind of fatalistic at this point. I went from a divorce to cancer to unemployment. I've been paying into "the system" for over 45 years, and now that I try to use it just once, it fails me.
I'm writing a fiction novel set in the future. Maybe it'll be a book someday, and maybe it's pure escapism. But I need something, anything, to take me away.

NEXT: Patrick Erwin

Last updated July 17 2009: 10:06 AM ET