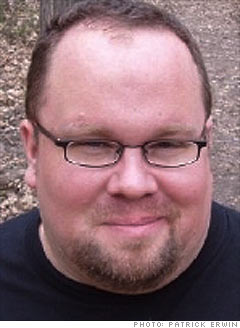 Unemployed since:
December 2008
Benefits expired: July 2009
Filed in: Illinois
Age: 40
I was a primary writer for a jobs Web site when I was laid off with 300 other people in December. I'd been there since June, hired in a growth period, and I didn't see it coming at all. We were supposed to move into a new, better office the day I was let go, and I'd received great performance reviews.
I got severance and all that; I was joking this was my "staycation," my "funenployment." But in early January, it all started to sink in. I'd been a freelance writer a long time, but I also had experience in administrative, banking and insurance. I couldn't find anything.
I finally started to look at retail stores, and Target said I was too overqualified. I've heard that quite a few times. My unemployment check for $388 came every two weeks. I used to make $1,200 in that period. I ran out of benefits after six months, and I didn't qualify for an extension because I hadn't worked enough.
All this has taken such a toll on my relationship. I moved in with my partner three weeks before I was laid off, and now he's paying our full rent. He has been so patient and kind, but this situation has just presented us with challenges we never expected to face -- with choices I never wanted to put him in the position of making. I'm not sure if we'll be able to continue living together.
It's like someone pressed the erase button on my entire working career. I feel powerless. I'm really thinking I'm going to have to move out of Chicago. I worked long and hard to get here. I don't want to leave my partner and my life here, but I'm worried I don't have any other options.

NEXT: Bob Begun

Last updated July 17 2009: 10:06 AM ET