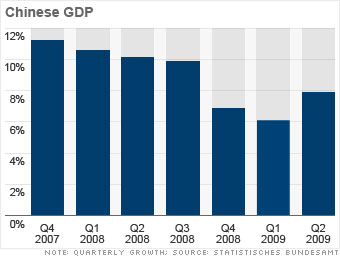 GDP: 7.9%
Inflation: -1.2%
Unemployment: 9%
Markets: 64.6%
Interest rate: 5.31%
China weathered its downturn better than any other G-20 nation, and the country appears to be picking up where it left off before the global recession started.
China's GDP bounced off of 10-year lows to rebound nicely in the second quarter. The economy was aided by a $586 billion stimulus package, ramped-up bank lending and government support for exports.
According to a recent report from the Asian Development Bank, China's state-controlled banking system lent $1.2 trillion more to Chinese businesses and consumers in the first seven months of 2009 than during the same period a year ago. As a result, factory output and construction has soared and auto sales grew 82% last month.
Tax breaks to exporters helped China's exports from falling off a cliff like in other countries. Outgoing goods dropped just 14.2% through July, according to ADB, compared to a 32.6% decline for the rest of the world.
The downturn knocked China's booming GDP down to an annualized growth rate of 6.1% in the first quarter, but the government recently said it believes it can grow 8% for the year and remain the world's fastest-growing economy.
NEXT: Germany: Earlier than forecasted
Last updated September 24 2009: 11:03 AM ET
Source: IMF, national statistics offices, central banks, SSEA
*China only reports urban unemployment rates