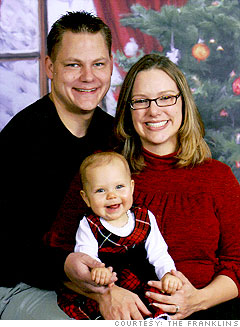 My wife and I have a condominium in Denver. I purchased in December 2005. I was a young bachelor with meager income, poor credit and no down payment. I had not intended to purchase at that time, but because the loan qualifications were so minimal and the prospect of rebuilding my credit so attractive, it seemed like a smart decision at the time to pay a high interest rate for two years and then refinance.
I drastically improved my credit - and married my beautiful wife. When the time came to refinance, I did not have enough equity to qualify. The appraisal at the time of purchase was $106,000, and my loan was only for $100,000. Now I would be lucky to get $85,000, so refinancing without bringing $13,000 plus closing costs to the table is unrealistic.
Our family, we have a daughter, has simply outgrown the condo. We can't lease it without losing hundreds of dollars monthly, and we can't sell without bringing thousands of dollars to the table. My wife is not on the loan, so if we were to just say "forget it" and walk away, only my credit would be damaged. I've spent four years being financially responsible and have excellent credit now, but that's not what has prevented us from walking away. While it seems like the government is only helping the irresponsible folks who are able to stay in their homes while not paying their mortgage, families like mine are equally affected but our moral standards don't allow us to not send out that monthly check.
If the current trend continues, we may have to put morals aside in order to do what's best for our family. So the question is: Do we continue to be responsible and stay in a situation that will take us years to get out of, or just walk away like so many other Americans?
NEXT: Won't walk away: Mike Files